'Amor Con Amor'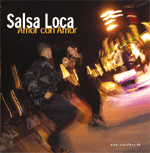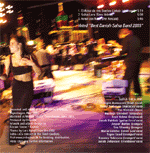 The Maxi CD 'Amor Con Amor' costs 50 DDK (including postage)
How to buy:
Please fill out the form below and press 'Order CD'

Next, transfer 50 DDK to the following (Danish) Jyske Bank account:
Reg. no: 5013, bank account no: 0001369345
Please remember to use the name that you fill out below for reference!

When tranferring from outside Denmark please use ...
- Jyske Banks' SWIFT code: JYBADKKK
- The account's IBAN no.: DK1150130001369345
- The address of the bank:
Jyske Bank - Østerbro, Østerbrogade 25, 2100 Copenhagen Ø, Denmark
When we have registered your transfer we will rush you a copy of the CD sent to the address below.

About the CD:

'Amor Con Amor' is the long-awaited first CD release from Salsa Loca (released Dec. 2003)
The CD is a Maxi CD with 3 original tracks.

The tracks:

Quotes from the Danish CD review in the leading Danish Salsa portal HiFiSalsa:

- "There's a danger that you'll end up being 'crazy (loca) about Salsa', too!", - "Smooth, it's Salsa Loca at their very best", - "They have succeeded in bringing the magic from the stage to the recording studio".