The Salsa scene has really taken off in Denmark, and people are queuing like never before to attend dance classes and shows. Young and old have truly discovered the life-enhancing properties and party appeal of Salsa music and dance, whose rhythmic roots come from Cuba.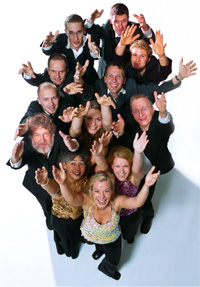 And partying is what it's all about when 11-piece band Salsa Loca take the stage. Infectious humour and all that raw swinging energy onstage mean that the band's shows always guarantee a lively and spirited crowd on a packed dance floor.
Salsa Loca have played to packed houses at most of the leading venues in the country with Salsa on the repertoire. For three consecutive years, Salsa Loca have united Danish Salseros at a Saturday nite open-air event at Plænen in the Tivoli Gardens, on a scale never before seen with a Scandinavian band.
In the first and only National Salsa poll hosted by Internet portal HiFiSalsa, Salsa Loca were overwhelmingly voted the best Salsa band in the country and the band has been nominated several times at 'The Danish World Awards 2003'.
Salsa Loca play a growing repertoire of own material as well as interpretations of newer Salsa classics by international stars such as Tito Puente, Celia Cruz and Gloria Estefan - and always with an eye on the dancers out there ...
The musical style is melodic and swinging international Salsa, as the artists mentioned also stand for - spiced with the wild, infectious humour and "feel-good" factor that always makes any show with Salsa Loca a memorable occasion.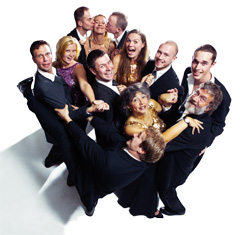 Salsa Loca, who formed in 1997, are based in Copenhagen, Denmark, and are a mixture of experienced and well-known faces from the Danish Salsa circuit together with some promising, up-and-coming young talents.
Fronting the band is Signe Asmussen with the huge voice and charisma, aided by maracas player "Mr. Moves" aka Tonny Pedersen, in a choreographed frenzy that keeps the energy flowing all night.
Packing a punch behind them is a well-oiled, hard-swinging rhythm section plus a dynamic, tight and foot-working horn section of two trumpets, tenor sax and trombone. Didn't have time to blow-dry that hairdo before going out for the night? Let the Salsa Loca horns help you!
Salsa Loca are ...
Front: Signe Asmussen (lead vocal) and Tonny Pedersen (maracas etc./coro)
Rhythm: Per Kincaid (bass), Sten Holme (keyboard), Jacob Rahbek (guitar/tres/coro), Jesper Nørløv (congas) and Rodrigo Labarca (timbales)
Horns: Maria Carelse (tenor sax/coro), Randy Holum (trumpet/coro), Rasmus Tobiesen (trumpet/coro) and Rolf Mandix (trombone/coro)